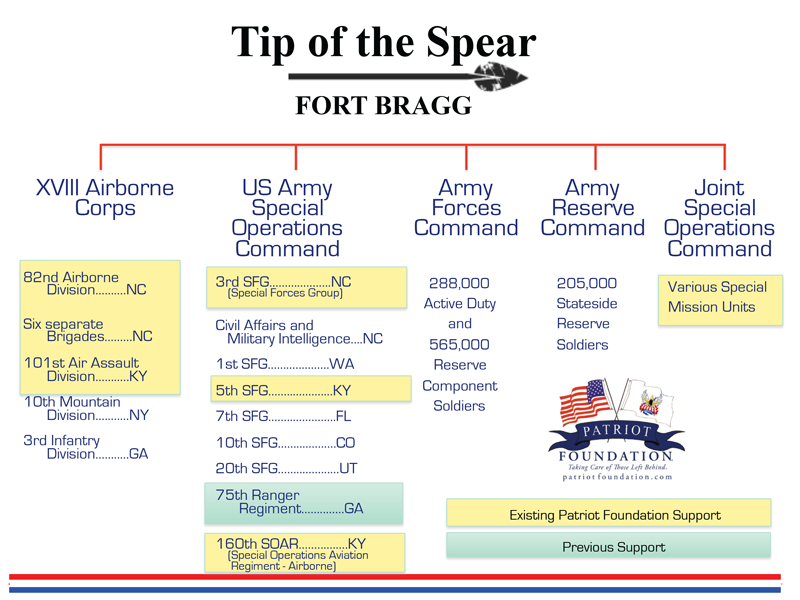 Ft. Bragg, North Carolina
Home of the Airborne, U.S. Army Special Operations, Joint Special Operations Command
Our nation's contingency force – first to go into harm's way
Elements continuously deployed since November 2001
Elite troops; the best trained and equipped in the world
Essential capability in the 'long war'
Largest U.S. base in the world (by population)
Ft. Bragg is the center of the universe for the Army – GEN Ray Odierno, Former Chief of Staff US Army
The recipients for the different types of financial assistance supported by the Patriot Foundation include all of North Carolina, but other locations across the country where grant recipients reside.
Ft. Campbell, Kentucky
Home of the 101st Airborne
2nd largest US base by population
The 101st Airborne Division (Air Assault) provides our Nation an unmatched expeditionary Air Assault capability to conduct forcible entry and other worldwide unified land operations in support of combatant commanders.
Fort Campbell serves as a projection platform and premier training and development center for Air Assault Operations in the United States Army; home to the 101st Airborne Division (AA), 5th Special Forces Group (ABN), 160th Special Operations Aviation Regiment (ABN), 52nd Ordnance Group (EOD), US Army Medical and Dental Activities, TN Valley District Corps of Engineers, and Veterinary Command.