The Patriot Foundation Leadership, all volunteers, have two objectives: (1) raise money for our charities, and (2) publicly honor the service of our elite soldiers who are serving and dying to protect our nation.
President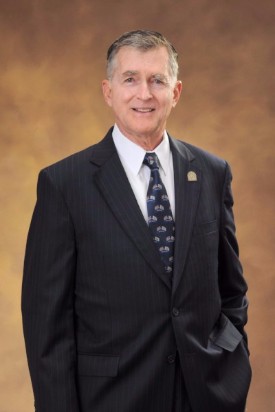 CAPT Chuck Deleot (US Navy, Ret)
Chuck Deleot grew up in Winston-Salem, North Carolina and received his A.B. degree from Duke University in 1967. He served on active duty as a Naval Intelligence officer from 1967-1972, and retired as a Captain in the Naval Reserve in 1990. In 1972, Mr. Deleot joined the Commander-in-Chief US Pacific fleet staff as a Computer Specialist working on next generation intelligence and command and control systems. Subsequently, he became the Technical Director and Deputy Director for Pacific Fleet Command, Control, Communications, Computers, and Intelligence.
In 2001 he retired from federal service. From 2002 to 2010 Mr. Deleot was an occasional defense consultant for Science Applications International Corporation (SAIC) as a Chief Scientist/ Engineer. Additionally, Mr. Deleot has supported the Naval Post-Graduate School with strategic planning services regarding evolution of disruptive technologies for large system interoperability and integration.
Mr. Deleot currently serves in a pro bono capacity as President and Chairman of the Board for the Patriot Foundation. The Foundation supports the families of soldiers killed, wounded, and injured in the Global War on Terrorism. On 31 Aug 2015, Governor Pat McCrory (NC) issued a Proclamation extolling the work of Patriot Foundation. Governor McCrory stated "the Patriot Foundation embodies the very best in highly effective and efficient volunteerism making an enormous difference in the lives of soldier's families since 2003 with its more than $3,500,000 in financial grants."
Mr. Deleot's education also includes an M.A in Business and an M.A. in Industrial Management from Central Michigan University in 1978. He also received an M.S. with a double concentration in Information Systems and Research and Development from the University of Southern California in 1980. In 1988 Mr. Deleot attended the Defense Economics Course at the Naval War College. Additionally, in 1978 he was awarded a Certified Computing Professional designation from the Institute for Certification of Computing Professionals.
He has over 30 personal honors and awards, including the Dept. of the Navy Distinguished Civilian Service Award, two Dept. of the Navy Superior Civilian Service Awards, the Dept. of the Army Outstanding Civilian Service Medal, selection as an Honorary Member of the U.S. Army's 82nd Airborne Division, and induction as a Ft. Bragg Good Neighbor.
Mr. Deleot is a lifetime member of the Association of the United States Navy. He enjoys golf and snow skiing and splits his time between homes in Southern Pines, North Carolina and Kirkwood, California.
Executive Vice President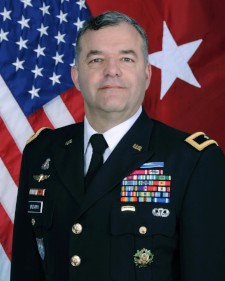 BG Ferdinand Irizarry (US Army, Ret.)
Brigadier General Ferd Irizarry served in the United States military for 36 years and retired August 2015.  Most recently, he served as the Deputy Chief of Staff, G-3/5/7 United States Army Reserve Command and Chief, Readiness, Office of the Chief of Army Reserve.  In this capacity, he was responsible for ensuring the operational readiness of US Army Reserve elements through the expeditious implementation of the Army Total Force Policy and expanding the global reach of these forces by establishing Army Reserve Engagement Cells/Teams in every theater. Irizarry previously served as the Deputy Commanding General for the United States Army John F. Kennedy Special Warfare Center and School/Special Operations Center of Excellence where he was responsible for coordinating the successful accreditation and recognition of the school as a training Center of Excellence. His previous assignments include Deputy J9 (Civil-Military Cooperation) for the ISAF Joint Command; executive officer to the Under Secretary of the Army; Commander, 95th Civil Affairs Brigade (Airborne); Chief of Staff/G-3/5/7, United States Army Civil Affairs and Psychological Operations Command (Airborne); the Director of the US Army Special Operations Forces proponency, and Chief, Civil Affairs/Civil-Military Operations training and doctrine development.  He served tours on contingency operations in Bosnia, Kosovo and Afghanistan with joint and multi-national units.
The general is a native of Long Island, New York and graduate of the Johns Hopkins University where he was commissioned a Second Lieutenant of Infantry.  He has served in myriad command and staff positions from platoon through the department of the Army in both the reserve and active components.  Besides his professional military education, he holds a MA in Public Administration from Golden Gate University.
BG Irizarry is married and has two children.
Officers
Prresident / Chairman of the Board:  CAPT Chuck Deleot (USA, Ret)
Founder: Spike Smith
Executive VP:  BG Ferd Irizarry (USA, Ret.)
Treasurer: CAPT Tom Welke (US Navy, Ret.)
Assistant Treasurer: Greg Handke
Assistant Treasurer: Scott Greenblatt
Program Director NC State Funding: COL  Barry Huggins (US Army, Ret.)
V.P. Corporate Engagement: Tom Deleot
V.P. Administration: LTC Vallie Rosner (US Army, Ret.)
V.P. Compliance: Bailey Vaughan
V.P. Special Events: Tim Buckley
Special Assistant, Knowledge Management: Chris Slade
Operations Volunteers
CSM Matt Majuri (US Army, Ret.)
Joe Beck
Bob Lloyd
SGM Eric Turk
CW4 Monica Turk (US Army, Ret.)
Board of Directors
CAPT Chuck Deleot (US Navy, Ret.) — Chairman
BG Ferd Irizarry (US Army, Ret.)
Spike Smith
Stan Bradshaw
MAJ Jason Howk (US Army, Ret.)
Mike Girimont (Founding Board Member)
Vince Nelson (Founding Board Member)
Patriot Foundation Ambassadors
Wesley Bauguess- Gold Star wife
Vanessa Cole-Brown- Gold Star wife
Britt Harris- Gold Star wife
SFC Gregory A. Stube, (US Army, Ret.)
MSG Cedric King (US Army, Ret.)
Ace Young
Diana DeGarmo-Young