The Pilot Newspaper - Patriot House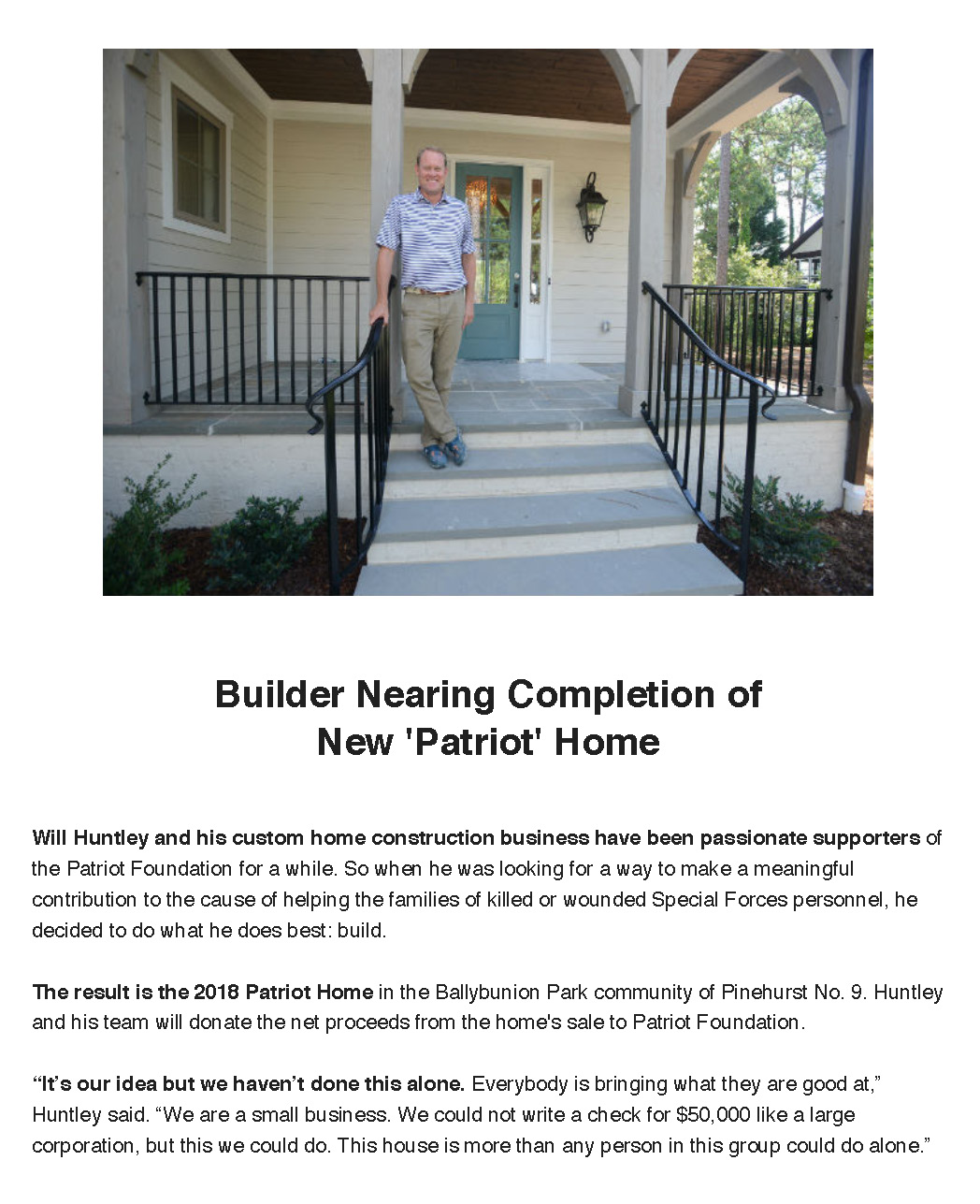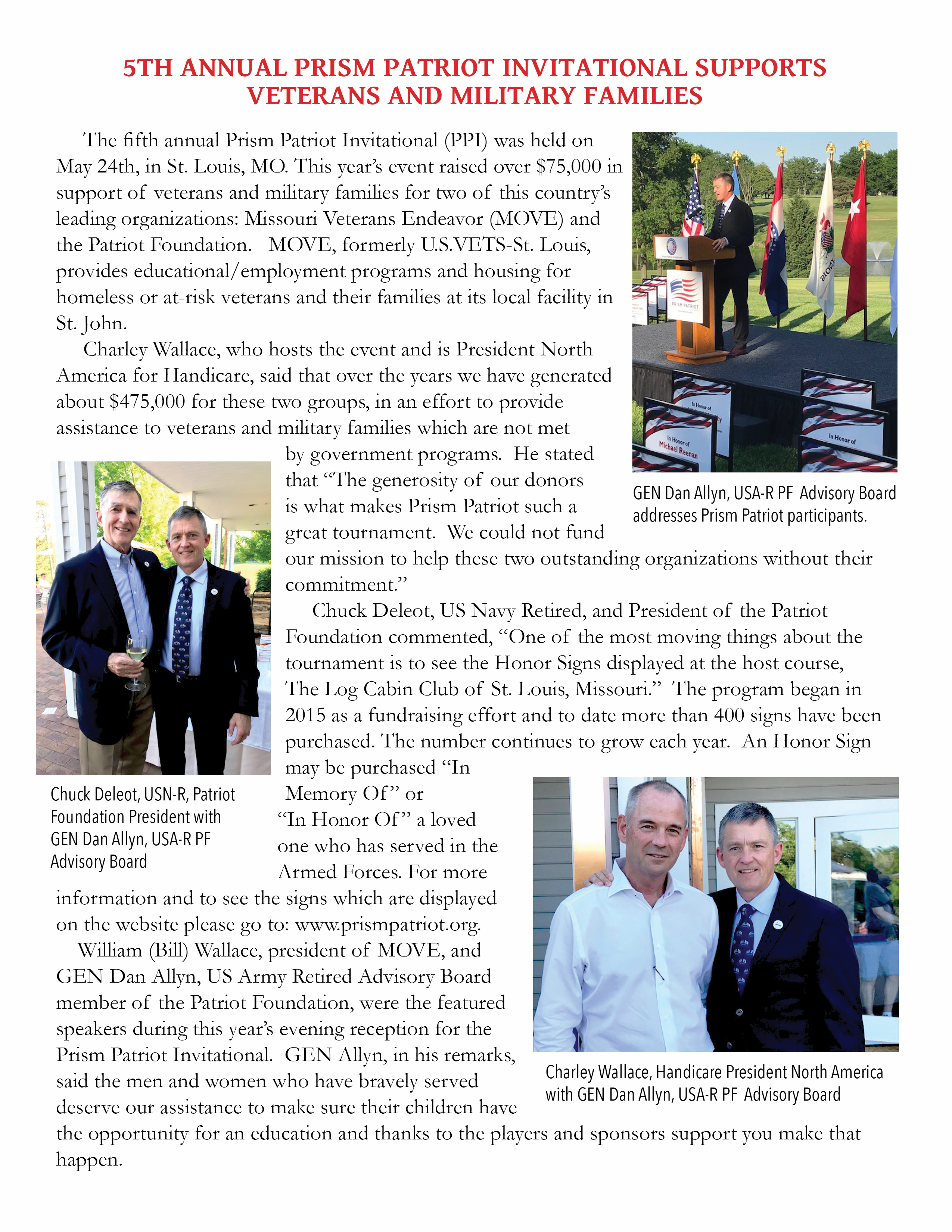 Business North Carolina

05/31/18
I hope everyone had a good Memorial Day. It's always been my favorite holiday. It started as a teenager playing in the marching band at my hometown's annual parade, which always concluded with an inspiring ceremony honoring veterans.

I'm past my trombone days, but the holiday still moves me to consider the sacrifices of the military. I have no special insight: I was never required to register for the draft during that brief period when anti-war sentiment of the Vietnam-weary public was strongest. My dad, a World War II veteran assigned to Italy, urged me to avoid military service. So did my aunt, an Army nurse who helped restore the health of concentration-camp survivors.

Over the years, I've become increasingly respectful of veterans. Last year I got an insider's look at Fort Bragg with a group organized by Chuck Deleot, a retired Naval officer who heads the Patriot Foundation, a Pinehurst-based nonprofit that does awesome work on behalf of veterans. That day we met soldiers ranging from new recruits to a four-star general, Steve Townsend, whose charisma and leadership qualities were straight out of central casting. Then the commander of Fort Bragg and the 82nd Airborne Corps, the general has since moved to a new post in Fort Eustis, Va.

Service doesn't just happen on the battlefield. Last week, I met retired Marine Brigadier General Stephen Cheney. He visited Charlotte to promote his nonprofit group, the American Security Project, which favors a broader view of national security. At a speech to the Charlotte World Affairs Council, Cheney emphasized that many U.S. business leaders consider climate change to be a major security threat, even as many political leaders avoid the topic. His comments carry a punch given he's a 30-year veteran who once commanded the Parris Island installation in South Carolina.

I'm thankful for the service of Generals Townsend and Cheney and everyone else striving to protect our freedoms.
David Mildenberg
dailydigest@businessnc.com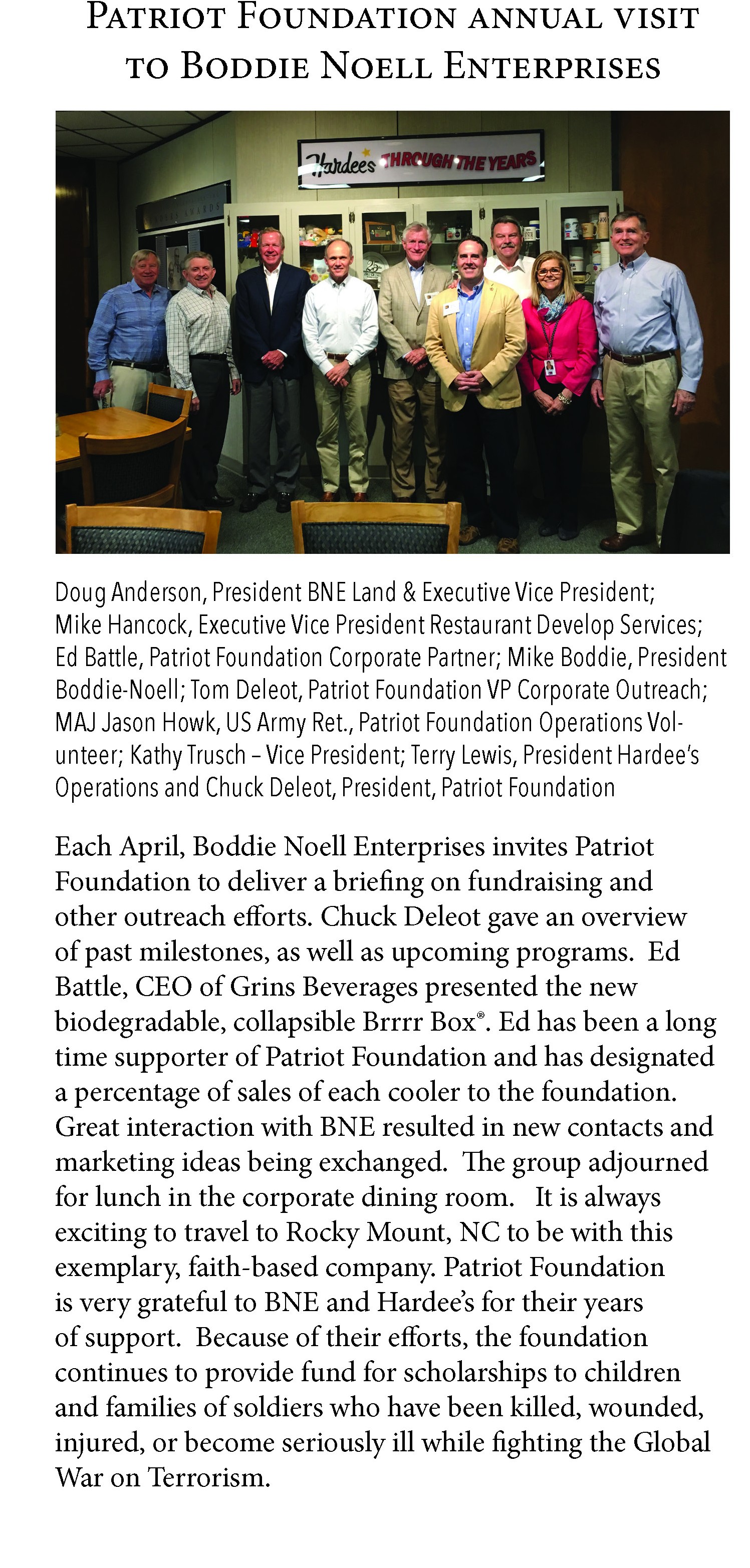 Hardee's Press Release
Pilot Newspaper - Corporate Leader visit
Paraglide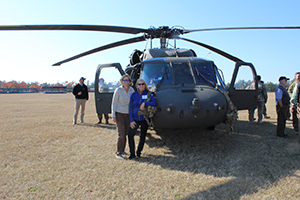 Patriot House - Huntley Design and Build
Business North Carolina Magazine article

12/04/17
Good morning. I had an incredible experience last week. The nonprofit Patriot Foundation, which supports families of deceased or wounded soldiers, sponsored a daylong tour of Fort Bragg for representatives of several North Carolina family foundations. The immediate upshot is today's "Fort Bragg Daily Digest edition."
The more permanent result is a newfound respect for military servants. Times are tense with an evil North Korean dictator and a volatile U.S. president. But meeting some of Fort Bragg's most powerful leaders, veteran snipers, several Special Forces soldiers, some new recruits — and Chuck Deleot's Patriot team — made it crystal clear: our nation's security is in very good hands.
David Mildenberg
dailydigest@businessnc.com
Pilot Newspaper - Soldiers Appreciation Dinner
King Fisher Society article
"Patriot Foundation, in conjunction with our partner King Fisher Society, held its 6th annual outing benefiting soldiers from the 82nd Airborne Division. Twelve soldiers, including wounded or injured, enjoyed a day of fishing and sporting clay shooting. King Fisher is one of North America's best fishing venues and offers world class sporting clay and wing shooting experiences for a select clientele. The paratroopers were led by SFC Johnathan Land. 
The fishing included 2 soldiers per boat which was piloted by an expert fishing guide. The soldiers were also treated to a catered lunch and end of day refreshments. King Fisher owner Jim Morgan personally met with the soldiers and enjoyed lunch with them. Patriot Foundation personnel included Chuck Deleot, CAPT US Navy Retired, Mike Girimont, Vince Nelson, and Tim Buckley. One of the paratroopers stated that this was "a once in a lifetime experience."
This is one of two outings the foundation conducts with soldiers each year. In the January time frame, Patriot hosts a morning of sporting clay shooting for 8-10 members of 3rd Special Forces Group at Vince Nelson's farm near Wagram, NC."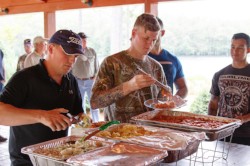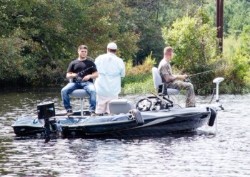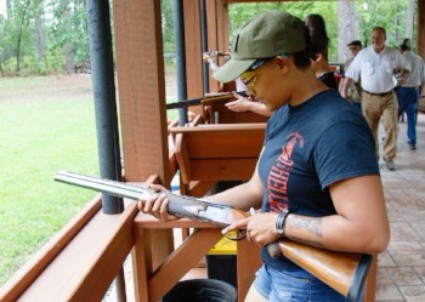 NC Patriot Star Family Scholarship Bill filed