Patriot Foundation hosts semi annual Corporate Leader Visit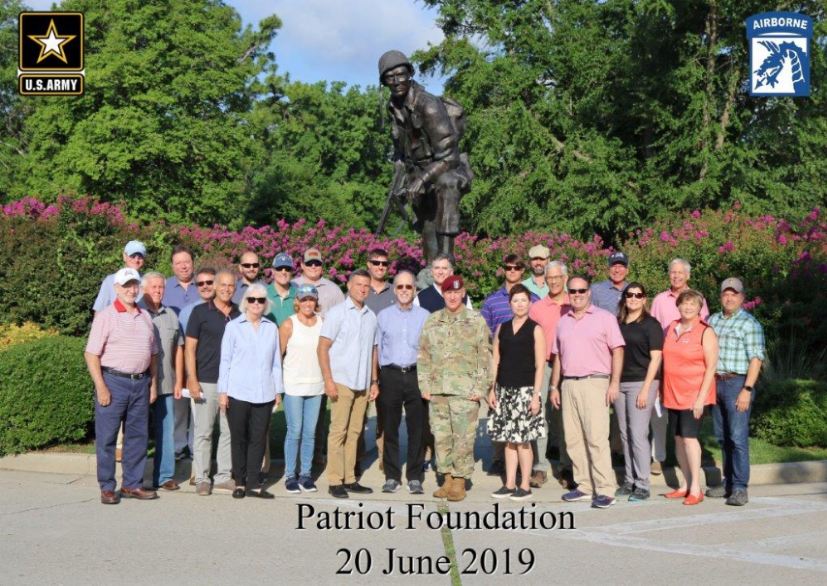 On June 20, 2019, the Patriot Foundation hosted its semi-annual visit to Ft. Bragg.  Members of the foundation hosted 20+ people that consisted of corporate partners as well as individuals that were interested in learning about us and how we support our military.
The morning began early with breakfast at Pine Needles Lodge and departed for Ft. Bragg at 6:45am.  They were met at Mckellar's Lodge by the XVIII Airborne Corp.  From there the group had a photo op with Iron Mike in the background and then onto Corps headquarters for a detailed briefing by the Commanding Officers or representatives.  They briefed our group on the operations of Bragg, including Womack Medical Army Hospital, Pope Air Field, 82nd Airborne and XVIII Airborne.  The group also made a stop at Survivor Outreach Services where Charlotte Watson, director of SOS, told of their service to the Gold Star Families. A Gold Star daughter spoke to the group on the impact of the Patriot Foundations have made in her life.  Providing scholarships to families assists in the financial needs for post-secondary education.  Then on to Pike Field to meet our soldiers and talk with them about the tools they use in the fight on terrorism.
Lunch was hosted by the Special Warfare Center and School.  While we ate, we received a briefing on what it takes to become a Special Forces operator.  We departed to our next destination with the USASOC (United States Army Special Operations Command) escorts.  At the range, we watched demonstration by the K-9 division and learned about the dogs training and service to protect our soldiers.
The group then headed to JSOC (Joint Special Operations Command) - something not many civilians have the opportunity to do.  But, because of the Patriot Foundation's relationship, our group gets to look beyond the gate.  We visited a state-of-the-art facility designed to keep our soldiers in top notch condition, and rehab them quickly when needed.  Therapists, nutritionists, physicians are all available to assist our soldiers.  The JSOC memorial was particularly moving as we learned about the symbolism or the monument.  We then entered a private briefing room to learn a bit more about the joint operations, its founding and its place on the world stage.  As we left, we were each given a challenge coin.
The day concluded at Mckellar's Lodge for fellowship with soldiers, and light refreshments.  Another great visit to Ft. Bragg.
Paraglide online also provided photography: Paraglide images
See more photos on the photo gallery