America's Longest Running War
Since 2001, our armed forces have documented nearly 60,000 casualties in the Global War on Terrorism (deaths, wounds, and injuries). On top of this, the Veterans Administration reports there are additional hundreds of thousands of veterans suffering from the debilitating effects of Post-Traumatic Stress Disorder (PTSD) and Traumatic Brain Injury (TBI). This war has left a huge backlog of shattered families who will need assistance for decades to come.
Ft. Bragg alone has documented nearly 700 deaths and 3,000 wounded or injured soldiers. That's 6 percent of the nation's total casualties originating from one geographic location. When the avalanche of PTSD and TBI cases acknowledged by the Veterans Administration is factored in, the total casualty number from soldiers who had been attached to Ft. Bragg could be 50,000.
Although we have drawn down our troop levels, our country has recently established a 10-year "Enduring Strategic Partnership" agreement with Afghanistan. United States conventional and Special Operations Forces will continue support of operations in Afghanistan.  The US maintains presence in Iraq with over 9000 troops currently stationed there to support the war on ISIS.
An Enduring Need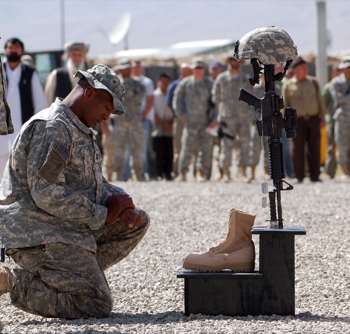 The Global War on Terrorism will surely require our forces to conduct operations around the world for years to come. The US State Department has documented that there are 64 Foreign Terrorist Organizations around the world which are enemies of our country. Our military has a continuous mission of protecting our nation and our vital interests against these terrorist threats. Serving in harm's way, our elite forces will continue to sustain casualties against these far flung threats. Additionally, simply carrying out the rigorous training continuously required to be ready to respond to contingencies produces a steady pipeline of deaths and injuries. This is particularly true of units at Ft. Bragg which comprise the nation's Global Response Force, as well as units at Fort Campbell. The task of taking care of the shattered families from the many current and future casualties is daunting, and will persist for decades. The spouses and children of our dead, wounded, and injured soldiers will need a wide variety of support including college scholarship assistance and child care for spouses who need to go back to school. These families are struggling to cope and transition. For so many of these families, our help is crucial.
How You Can Help
Your invaluable donations will provide college scholarships and financial assistance for children of soldiers in:
82nd Airborne Division

XVIII Airborne Corps

US Army Special Operations Command

Ft. Bragg Warrior Transition Battalion

Ft. Bragg Survivor Outreach Services

Joint Special Operations Command

101st Airborne Division (Air Assault) Ft. Campbell, KY
In addition to college scholarships, your donations will also provide child care for spouses of wounded/deceased soldiers so that the spouses may pursue further education to improve the financial security of their families. Most importantly, your contribution communicates to soldiers and their families that their sacrifice will never be forgotten.
The Patriot Foundation is an all-volunteer organization. Our overhead rate for 2016 was 6.3 percent, so nearly all of your donations directly benefit those we serve.